The holiday season, often depicted with snow-laden streets, twinkling lights, and warm gatherings, presents a unique challenge for healthcare facilities: ensuring adequate staffing. While the world celebrates, healthcare needs don't take a holiday. This is where the invaluable role of traveling healthcare professionals becomes evident, offering robust staffing solutions for facilities in need. 
Understanding the Modern Healthcare Staffing Landscape
In today's dynamic healthcare environment, the demand for consistent, high-quality patient care doesn't wane, even during the festive season. However, with staff taking time off to be with their families, healthcare facilities often find themselves grappling with shortages. This is where specialized healthcare staffing agencies, like ours, step in to bridge the gap.
Our mission is clear and resonant: to rehumanize the way healthcare staffing is approached. In an industry that's often bogged down by numbers, metrics, and bottom lines, we prioritize the human element. Every healthcare professional we work with is seen, heard, and valued. As a proud woman-owned staffing agency, we infuse our operations with empathy, understanding, and a commitment to excellence.
The Unparalleled Benefits of Traveling Healthcare Professionals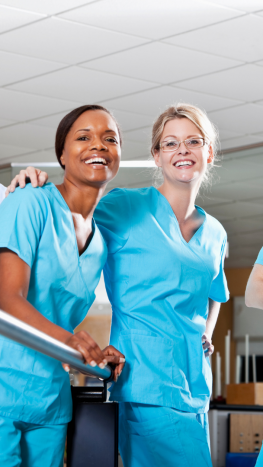 Adaptability and Resilience: Traveling healthcare professionals are the epitome of adaptability. Accustomed to integrating into diverse healthcare settings, they can quickly become a part of your facility, ensuring a seamless continuation of care.
Diverse Expertise: Drawing from experiences across different healthcare environments, traveling professionals bring a rich tapestry of skills, knowledge, and best practices. This diversity can be a boon for your facility, introducing fresh perspectives and innovative approaches to patient care.
Cost Efficiency: Opting for traveling professionals can be a strategic move from a financial standpoint. You secure top-tier expertise without long-term financial commitments, allowing for more budgetary flexibility.
Combatting Staff Burnout: The holiday season can be particularly taxing on your permanent staff. By bringing in traveling professionals, you can alleviate some of this pressure, ensuring that your permanent team remains motivated and doesn't succumb to burnout.
Fresh Perspectives: A new set of eyes can often spot areas of improvement that might be overlooked by those who've been in the setting for a longer time. Traveling professionals can offer insights that enhance operational efficiency and patient satisfaction.
Our commitment to rehumanizing healthcare staffing isn't just a tagline; it's a philosophy that permeates every facet of our operations. We understand the intricacies of healthcare staffing, especially during peak seasons like the holidays.
Being a woman-owned agency gives us a unique vantage point. We approach staffing not just as a logistical challenge but as an opportunity to create meaningful connections. Our professionals aren't just names on a roster; they're individuals with aspirations, strengths, and a passion for healthcare.
We've Got You Covered
With an expansive network of traveling healthcare professionals, we're poised to cater to your specific needs. Whether you're a sprawling hospital or a cozy clinic, we have the staffing solutions to ensure that your operations run smoothly, even during the busiest times.
In conclusion, the holiday season, with its unique staffing challenges, need not be a daunting period for healthcare facilities. With the right partners and a strategic approach to healthcare staffing, you can ensure that your facility remains a beacon of care and support for those in need. Let's collaborate and redefine the future of healthcare staffing, one professional at a time.