May is recognized as Mental Health Awareness Month and it is a great reminder for travel nurses to take the time to prioritize their own health and well-being. Travel nurses selflessly focus on the needs of their patients' day in and day out, but it's equally important that they pay attention to their own mental health.  
Of course, taking care of others is fulfilling work but the demands of travel nursing can be intense and taxing, leaving healthcare professionals at risk for mental health issues such as burnout, compassion fatigue, anxiety, and stress. 
Whether it's incorporating more physical activity, practicing meditation/mindfulness, or committing to eating a more balanced diet, one thing is for sure; taking the time to put your own mental health first is important so that you can provide the very best care to your patients.
Top Factors that Affect Mental Health of Travel Nurses
It is important for healthcare facilities to support mental health and integrate it into their overall organizational culture. Implementing workplace practices that promote mental health awareness, provide access to counseling services, and prioritize self-care can help mitigate some of the challenges nurses face. By prioritizing the well-being of nurses and travel nurses, healthcare organizations can create healthier and more supportive work environments, which in turn promotes better patient care. Note that the following factors vary among individuals, assignment locations, and healthcare settings.
High Workloads and Patient Ratios
Healthcare workers frequently face large patient volumes, complex cases, and high-pressure situations, which can lead to increased stress levels. They may feel overwhelmed by the workload and struggle to cope with the expectations placed upon them. This can lead to feelings of burnout, stress, and emotional fatigue. Encouraging nurses to take regular breaks during their shifts and provide designated spaces for rest and relaxation goes a long way. Additionally, hospitals and facilities have the responsibility to provide low stress working environments and manageable patient ratios.
Trauma and Emotional Burden
Nurses and travel nurses alike are often exposed to traumatic situations, such as accidents, serious injuries, difficult patients, and death, which can take a toll on mental health. The constant exposure to these challenges can lead to feelings of trauma fatigue, guilt, sadness, and disorders such as post-traumatic stress disorder (PTSD). Hospitals should provide training to help healthcare workers navigate and process the emotional challenges associated with their work.
Lack of work-life Balance
Nursing often requires irregular and long working hours, making it challenging for healthcare workers to maintain a healthy work-life balance. The imbalance between personal and professional life can contribute to stress, mental health issues, and ultimately burnout. Finding travel nurse assignments at a facility that supports a work-life balance, taking breaks regularly, and taking time off to reset will help you avoid burnout and compassion fatigue.
Lack of Support, Recognition, and Resources
Travel nurses may not receive adequate support from their supervisors, peers, or organizations. A lack of recognition for their efforts and sacrifices can contribute to feelings of demoralization, isolation, and low job satisfaction. Additionally, healthcare settings may face resource constraints, such as staffing shortages or limited equipment. These limitations can result in increased work stress, frustration, and feelings of helplessness among healthcare workers. Healthcare facilities have the moral responsibility to provide support and listen to the needs of their nurses and medical staff.
Stigmas Around Mental Health
In some cultures or societies, seeking help for mental health issues is  . Many may avoid or delay seeking treatment due to concerns about being treated differently or fears of losing their jobs because stigma, prejudice and discrimination against people with mental illness is still a big problem. Travel nurses may fear the negative consequences of disclosing their mental health struggles, which can further contribute to their distress and prevent them from seeking necessary support. At Marvel Medical Staffing we're committed to ending the stigma by supporting anyone who seeks help!
How Travel Nurses Can Prioritize Their Mental Health
Physical and Mental Health Go Hand in Hand
Your physical health is a direct factor of your mental health, and vice versa. Not taking care of one means it will affect the other. Get into a routine where you can incorporate physical activity at least three days a week.  exercise helps relieve tension, reduces stress levels, boosts your mood, and improves sleep.
As a travel nurse, there are plenty of ways to get creative and find time for fitness, on and off the clock. Taking walks outside or joining a yoga studio are great ways to get started. Why not take a few minutes during your lunch break to enjoy some light stretching or take the stairs versus the elevator? You don't have to become a fitness fanatic to get your exercise in.
No matter what you do, find exercise methods you enjoy because it will make exercising a whole lot easier and more enjoyable!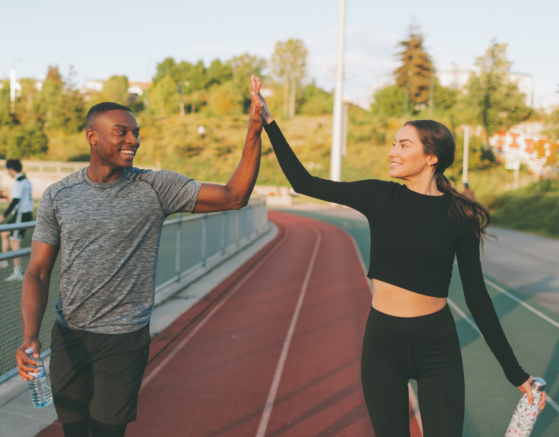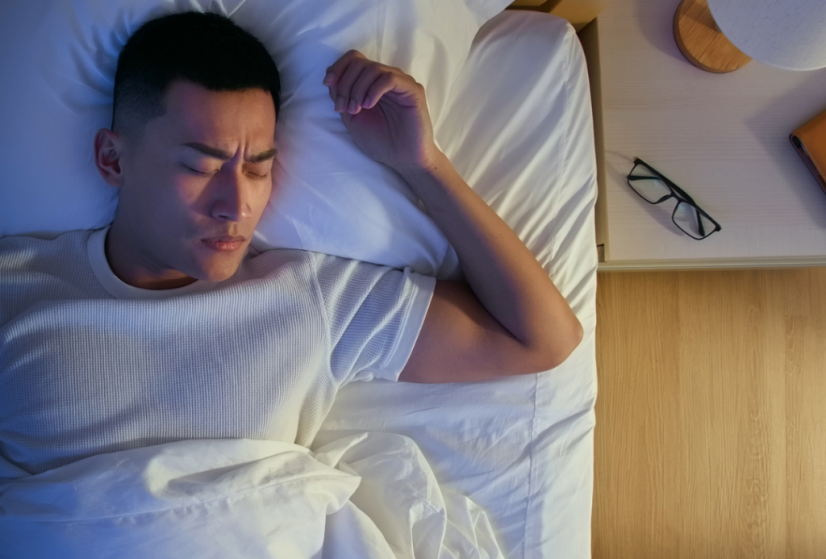 R & R
Rest, relaxation, and SLEEP! Getting a good night's sleep can help improve your mood and reduce the levels of stress on your mind and body. Additionally, it  reduces the risk of mental impairment so that you can make appropriate decisions and use good judgment while at work. 
Relax by laying on the couch and enjoying your favorite shows or hitting the spa. Prioritizing yourself and doing the things you need to do to reduce stress and burnout is ok! 
Nurses work so hard for others that they need and deserve to take time for themselves too. 
Create a Balanced and Nutrient-Rich Diet
Food is fuel! Just like in travel nursing, consistency is key!  Consistently eating healthy, paired with daily exercise and solid sleep, will help support your immune system, decrease your chances of getting sick, and help you avoid burnout while on the job. Choosing healthier snacks and reducing your sugar/trans-fat intake is a great place to start.
Meal-prepping healthy foods for lunches throughout the week will help you incorporate a balanced diet while at work and save money! Not so fun fact with a shot of reality: caffeine has been proven to increase stress levels, so reduce your coffee intake! Taking vitamins and  minerals while also staying hydrated will help your body manage work-related stress too. Making these small changes can make a huge difference for your physical and mental health.
Practice Self-care and Mindfulness
It's important for nurses to prioritize self-care as a way to manage and prevent mental health issues. Self-care activities can include meditation, yoga, and journaling, as well as spending time with friends and family. Or maybe you just need to kick back with some good tunes every now and then! 
Mindfulness will help you focus on your thoughts, needs, and physical state so that you can make any necessary adjustments to help you with stress or other mental health challenges.
Prioritize a Work-Life Balance
Whether you work 4 10's, 5 8's or overnights; making time for yourself and enjoying the travel of travel nursing is necessary to mitigate burnout. Put  in those PTO days, take that trip you've been wanting to go on, plan a weekend  getaway, and make time to pursue your hobbies and interests! Set boundaries and understand that sometimes it is ok to say no at work.
 These are just a few things that will help you have a balanced life which leads to reduced stress/anxiety levels, decreased risk of burnout/fatigue, and increased energy levels/mood. 

Find a Healthy Work Environment
It is essential that healthcare organizations create a culture of support and understanding. 
At Marvel Medical Staffing, we believe in providing mental health resources and outlets for our employees and our travelers! When searching for your next travel nurse assignment, find a vetted hospital or facility that offers mental health resources and prioritizes the health and well-being of its nurses. 
Additionally, our dedicated recruiters  are committed to supporting our hardworking travelers and will be there for you every step of the way!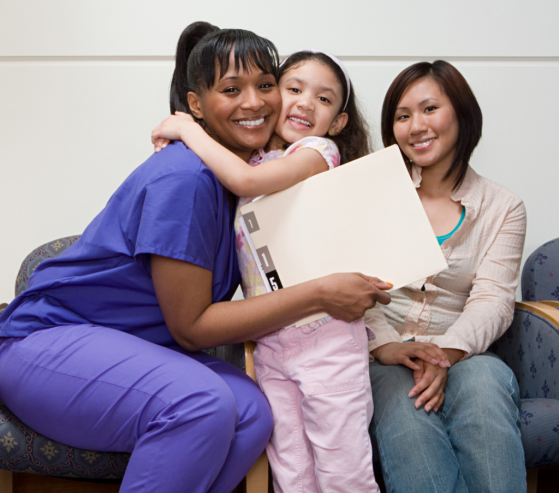 Look For Work Environments That :
Have a culture that prioritizes, supports, and encourages the mental health of their nurses.
Support a healthy work-life balance and support staff taking days off for themselves.
Provide mental health and stress management resources/training.
Regularly recognizes the sacrifices and dedication of their nurses and healthcare providers.
Actively and openly listen to feedback and concerns of nurses.
Seek Help When You Need It
Resources:
Mental Health Awareness Month is a great time for a travel nurse to reset and refocus on themselves. Small steps can lead to big changes for a nurse's overall mental health. We know that working as a travel nurse can be stressful so make sure to prioritize yourself and create a healthy work-life balance.
Hospitals and facilities also have the responsibility to create cultures of support and understanding, promote self-care, and provide access to mental health resources. Doing so can help their nursing staff to thrive, both professionally and personally leading to better patient care. At Marvel Medical Staffing we believe in rehumanizing healthcare and ending the stigma around mental health! Learn more by contacting one of our supportive and dedicated recruiters today!