2023 is the Best Year to Start your Travel Healthcare Career
Start your travel healthcare career now! With an aging population and an increasing shortage of healthcare workers, the demand for healthcare professionals is expected to continue to rise in the coming years. This is especially true for travel healthcare professionals, who now more than ever, are needed to fill short-term staffing gaps in hospitals and clinics around the country.
Travel healthcare professionals are needed in a wide range of specialties, including registered nurses, physical therapists, ct techs, medical lab technicians and more. This means that you can find an opportunity that aligns with your interests and expertise. Starting a career in travel healthcare in 2023 can be a great choice for several reasons
Higher pay
When hospitals and facilities are in high demand for healthcare staff, they will typically offer higher pay rates in order to fill the demand faster. Travel healthcare professionals typically earn higher pay than their permanent counterparts, due to the added costs of housing and travel. This means you can make a substantial amount of money in a shorter amount of time. This is especially true if you have a nursing specialty or work overtime. Talk about being able to rack up your savings!
Not only are you making more money, but you can also make tax-free money. Tax-free money for lodging, meals, and incidental expenditures comprises a significant percentage of travel nursing pay packages. The advantage is that you pocket more money and avoid payroll taxes on your stipends. At Marvel Medical Staffing, we emphasize transparency and are always honest about pay. Our recruiters work hard to ensure our healthcare travelers receive the absolute best pay and experience while on an assignment. Start your travel healthcare career, we want you to get the bang for your buck!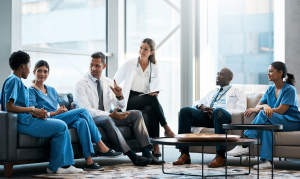 Travel and Adventure
One of the biggest draws of travel healthcare is the opportunity to see new places and experience new cultures. Whether you're interested in working in a big city or a rural area, there are plenty of opportunities to explore different parts of the country while you work. Are there destinations on your bucket list you've always wanted to visit? Are you looking to explore every National Park? Well, shift flexibility allows you to take mini vacations between shifts. Not to mention, your recruiter can help you space out your next contract, so you have ample time to check off those places you've always wanted to visit before your next assignment!
Travel healthcare assignments typically last anywhere between 8 and 13 weeks, with the option to extend or take on another assignment. This allows for a perfect balance of work and personal life, and a chance to explore various locations and settings before committing to a long-term position. From ski to sea, Marvel Medical Staffing offers a wide range of healthcare specialties in locations all over the United States. Talk to a recruiter today to learn more about kick starting your travel healthcare career by calling 323-977-4437!
Contract and Shift Flexibility
YOU choose your own career path! Travel healthcare professionals have a great deal of flexibility and autonomy in their work, depending on specialty and hospital/facility. You get to choose where you want to work, but many assignments also allow you the freedom to set your own schedule and work on your own terms. Whether you prefer night shift over day shift or weekends over weekdays there's a perfect assignment waiting just for you! Start your travel healthcare career by getting connected with Marvel's awesome recruiters.
Benefits are Better than Ever
Our vision is to rehumanize the way healthcare staffing is done! Marvel Medical Staffing is proud to offer benefits that truly help our travelers such as healthcare plans, 401K programs, PTO, continued education opportunities, stipends, and more! Additionally, travel healthcare professionals may be able to claim certain expenses, such as travel and housing, as tax deductions. This can help offset some of the costs associated with working as a travel healthcare professional. As a healthcare worker, you take care of others, so our priority is to ensure you're taken care of too!
Contribute to the healthcare system
With the current and projected continued shortage of healthcare professionals, travel healthcare plays a crucial role in filling the gaps and ensuring that patients receive the care they need. By choosing a career in travel healthcare, you'll be making a significant contribution where patient care is needed most. Travel nurses help to fill staffing shortages and provide continuity of care during unexpected absences or shortages of staff nurses and other healthcare professionals at a facility. Additionally, travel healthcare staff helps to provide continuity of care in remote or rural areas that have a high demand for healthcare professionals.
Many healthcare facilities use travel healthcare professionals to try out potential permanent hires, as well. This can be a great opportunity for travel healthcare professionals to secure a long-term position at a facility they enjoy working at and in a city or state they love. Maybe you're looking for a place to call your forever home but haven't figured out where that is yet. Make your mark on the industry by finding an assignment today!
Enhance your resume
Facilities have different procedures, protocols, goals, equipment, and challenges that may seem overwhelming, but it's the perfect chance for career growth. You will have the ability to learn several EMR systems, ways to approach different patients, and much more. With all the experience and knowledge gained from travel healthcare assignments, you will enhance your resume and increase your employability. Travel healthcare can be a great stepping stone to other career opportunities. You'll gain valuable experience and skills that can help you advance in your chosen field but also learn about different specialties!
Network
New facility, new state, new people. It is a perfect opportunity to expand your healthcare network and show off your skills to a whole new crowd. Meeting new friends can be scary but ultimately rewarding! You'll make lifelong friendships and connections as you go from assignment to assignment. Additionally, all those staff nurses and permanent employees you meet may want to start their travel careers too! That's good news for you because Marvel Medical Staffing offers referral bonuses when you refer a friend to sign a contract with us!
Working in travel healthcare means you'll have the opportunity to network with other healthcare professionals from around the country. A great way to network and stay connected after an assignment is to join social media groups and pages! Many hospitals and facilities may have their own pages or groups that you can join! For example, Marvel Medical Staffing has its own Marvel Travelers page on Facebook where all our travelers can network, share their experiences and photos, and stay up to date on the latest news and events! We also offer the opportunity for our travelers to be featured on our pages to expand their following and network. If you're interested in being featured or collaborating with our social media team, send us a direct message on Instagram!
Starting a career in travel healthcare in 2023 can be a great choice for anyone looking for a rewarding and fulfilling career. With high demand for healthcare professionals, competitive pay and benefits, opportunities for adventure and travel, flexibility, career development and advancement, and contribute to the healthcare system, travel healthcare can be a great way to kick-start your career in healthcare. Our friendly and knowledgeable recruiters are with you every step of the way! Connect with one today to explore the endless possibilities of travel healthcare.