Housing Options for Travel Nurses
Travel nursing is exciting. There's nothing like visiting and exploring a new city! Before you can explore, though, you may need to find housing. Some agencies provide housing, and some provide a housing stipend. If you have a stipend and need to find housing on your own in a strange city, it can be overwhelming at first. You don't know the area, where to find the necessities, or how to get around the city. And you don't know how expensive housing will be from assignment to assignment.  
On top of the unknowns, your contract length can make it challenging to find housing, as many landlords aren't willing to rent for a short time. Along with the length of stay, here are some other options to consider when looking for your temporary home:
Closeness to the job
Appliances and amenities
Local transportation, or is the area walkable?
Are there stores or a gym nearby?
Is it a safe neighborhood?
What are the parking arrangements?
Are pets allowed?
Are there local attractions and activities nearby?
It can be difficult to find the answers to those questions and more from a distance. Fortunately, there are some helpful options for finding housing and for vetting your options from afar.
Vacation Rental Sites
Vacation rental sites are popular and familiar and tend to have a wide selection of rental options. From locations to amenities to home type, you can find almost anything you're looking for on vacation rental sites. Two of the most popular sites are Airbnb and VRBO.
Airbnb is a popular vacation rental site that allows you to search by location and rental dates.
They have a wide variety of rentals, from luxury homes to off-grid homes and everything in between. They even have a "Unique Stays" category if you'd like to stay in a unique home, like a vintage Airstream or a treehouse.
The "Amenities" section in the listing will indicate if a home is available for long-term stays. Many renters offer discounts for extended stays, but you may need to communicate with the owner for details.
Keep in mind that there are cleaning and service fees with each rental. Fees are noted on the listing.
The Airbnb website also has local information and activities for many areas.  


VRBO is a popular vacation rental site that allows you to search by location and rental dates, as well as particular circumstances like pets-allowed rentals or homes with swimming pools. According to their website, VRBO has over 2 million rentals listed. Chances are good you'll find something you like!
The listings are very detailed, noting the type and size of each bed, the setup of each bathroom (tub, bidet, and so on), and utensils provided in the kitchen, as well as nearby attractions.
Keep in mind that there are cleaning and service fees with each rental. Fees are noted on the listing.
VRBO offers booking protection and 24/7 customer support.


Extended Stay Properties
Extended stay properties are hotels that include a kitchenette in the room. It's an option that allows you to have the amenities of a hotel in a more apartment-like setting. Not all extended hotels are alike, so it's always a good idea to verify the kitchen features before booking if you plan on cooking in your room.
Many extended stay options have swimming pools, gyms, house cleaning, complimentary breakfast, and more. Some have a nightly happy hour with snacks for guests to mingle.
Extended stays generally don't ask you to sign a lease, so you have more freedom to come and go if your contract changes than with private rentals.
You can search for extended stay hotels on the internet or use a website like Travelocity to search. Some well-known extended stay hotels are Extended Stay America, Residence Inn, and TownePlace Suites.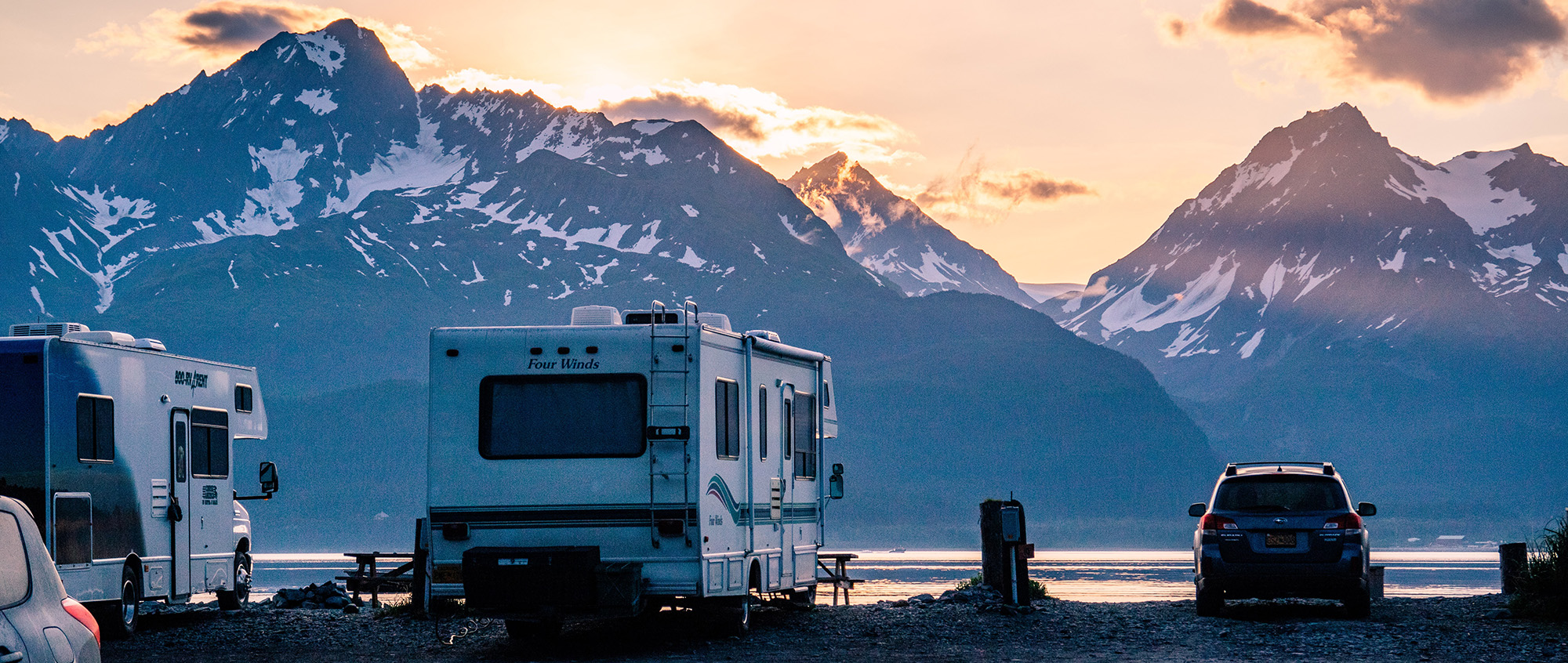 RV Rentals
An unusual option for the more adventurous is an RV rental. Rentals can be by the month, come fully furnished, and can be parked just about anywhere. RVs for travel nursing became especially popular during the pandemic, as nurses traveled to COVID hotspots as staffing needs changed. RVs also became isolation homes for healthcare workers who did not want to take their COVID unit home to their families at night.
RVs are great options for small, rural areas where there are few options for furnished rentals. They're also convenient, as many RV owners will deliver them to your campsite and set them up for you. Some hospitals even allow travel nurses to park RVs onsite but may not have adequate water and electrical hookups.
Other nurses may prefer an RV park or campground where they can enjoy the camplike atmosphere and sightseeing.
Another option is to tow your own and take your home with you on every assignment – a true adventurer!
Travel Nursing Websites
Travel nursing websites are dedicated to helping travel nurses find housing while on assignment. Because they're specifically focused on travel nursing, they weed out the housing options that aren't agreeable to the unusual scheduling of travel contracts. Two popular sites are Furnished Finder and Tripping.com.
Furnished Finder is a web service designed specifically for traveling nurses and other professionals. Its focus is on 30-day minimum stays. The website allows you to search by destination and maximum monthly budget.
Furnished Finder will locate rooms, houses, cottages, apartments, condos, and even hotels, saving you from searching multiple sites.
Listing descriptions include any minimum stay requirements, utilities, if pets are allowed, and other amenities.
The site also has a map option so you can view each option in relation to your job site or other local features.
There are no booking fees, and you book directly with the owner. You can request Owner Verification from the site. Hosts must pass background checks to be listed.
The Furnished Finder website has extensive FAQ's to answer all your questions.
Tripping is a vacation and short-term rental search site. It finds and displays housing from other websites based on your search criteria. It allows you to compare options from multiple websites at once, saving you from searching numerous sites. According to the website, Tripping has access to listing for 12,000,000 properties worldwide! It also lists activities and attractions in the surrounding areas.
Many of the listings have discounts listed. Booking is through the listing site.
Vetting Your Options When You Can't Check Them Out in Person
When you're far away from your next assignment, it can be challenging to choose a rental if you're not familiar with the area. Before you sign a rental agreement, use these sites to check out the neighborhood:
Google maps – To see what's nearby.
Google earth – For a bird's-eye or street-level view of the area.
AreaVibes – Type in an address, and AreaVibes will show you information about the area, including safety and a livability score.
WalkScore – Type in an address, and WalkScore will give you details about the area, including nearby attractions as well as how bike- and walk-friendly it is.


Always Be Safe
While you're looking, keep an eye open for red flags that might indicate a scam, like:
Too good to be true price
Hard to contact property manager
Property manager using a Google Voice number
The area code of the manager doesn't match the property area code
The property manager or owner won't meet you in person
Odd behavior (extreme urgency, emotionally invested in your rental)
Requests to wire money through untraceable apps


How Much Should You Be Prepared to Spend?
The cost of housing will depend on several factors, including:
Location – Pay attention to the cost of living in your assignment area. Your stipend should account for that, but you may still be surprised by the cost of living in larger cities.
Time of year –Taking an assignment in a popular vacation area in-season or a warm state in the winter may be more expensive than doing the opposite. Research your location before you go so you'll be prepared for seasonal cost-of-living changes, lack of housing, or an influx of tourists.
Type of housing – The size, type, and location of your temporary home will affect the price.
Enjoy Your Adventure!
Travel nursing can be rewarding and exciting! You have a fantastic opportunity to meet new people and explore the country one assignment at a time. But one thing you don't want to turn into an adventure is finding a safe place to stay. Follow the tips above to make your temporary home search easy and enjoy your adventure!
Be sure to check out our frequently posted jobs on Marvel Match as well!