As Occupational Therapy Month is coming to an end, we got the chance to chat with one of our very own OT Travelers.
Bonnie Raab has been traveling with Marvel since the beginning, or shall we say "the basement days." Many people don't know this, but Marvel began in one of the owner's basements back in 2019. If that doesn't scream "anything is possible," then I'm not sure what does. Being one of the first, Bonnie stuck with us through it all, and we are incredibly grateful.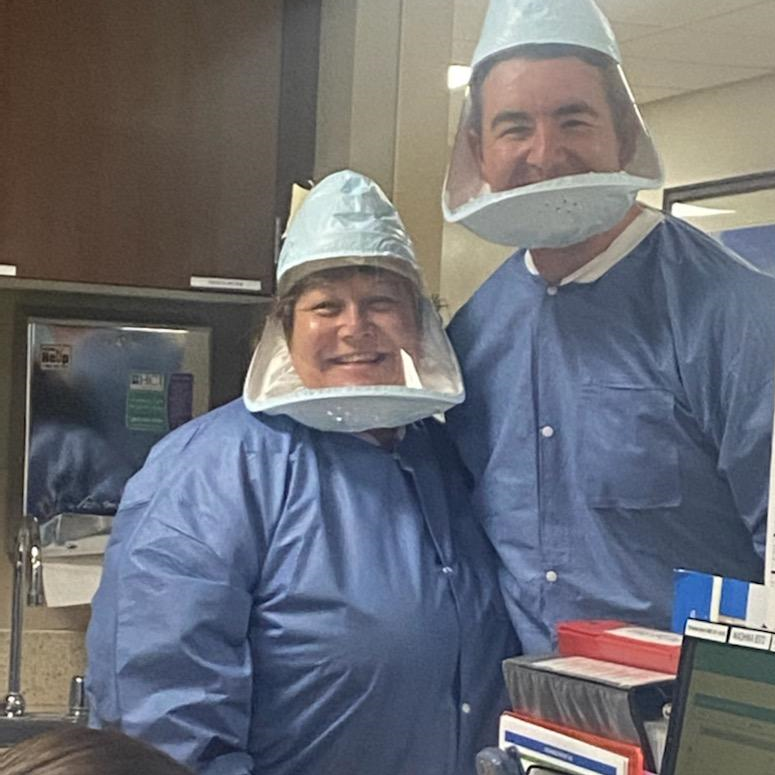 Here are Bonnie's views on Occupational Therapy:
In your own words, what is the definition of your job? 

As an OT, I work with people experiencing setbacks because of a health issue or crisis to regain their life's occupations: daily routines & skills, leisure pursuits, or structured work tasks. I work with my patients in all types of ways to rebuild their lives. 

How long have you been an OT

? So long that I can no longer count the years on my fingers & toes, so sometimes it is hard to recall, but I believe more than 37 years, oh my, I AM OLD!

What skills as an OT have you found the most useful?

 Flexibility, & Think Twice, Speak Once. Common sense & clinical reasoning skills are also extremely advantageous. 

When/how did you know you wanted to be an OT?

 When I was younger, I worked at a nursing home, and I enjoyed getting to know & learning of the experiences of my residents. I researched healthcare occupations & opportunities and up popped Occupational Therapy, an obscure profession that I felt would suit me. So I went for it! 

What/Who inspires you?

 My 90+ year-old patients that can outrun me have lived through and flourished through challenges and obstacles and still have an amazing outlook on life and how they are continuously blessed!

How do you manage stress when it comes to being a traveling OT?

 I try to immerse myself in learning and experiencing something in each new place I land. Whether that is experiencing new landscapes/outdoors or learning the different cultures of the locals, I have realized that when you work as a traveler, you really get to know different communities and cultures, the beauty of the natural world of your temporary space, and what really makes a community terrific rather than just being a tourist. 

What helps you stay motivated while traveling instead of working at one facility?

 Every few months, I go through changes (whether learning a different community, new documentation systems, new facilities, or finding new pearls of wisdom from my new colleagues). These changes keep me young at heart, my mind sharp, and I feel a metamorphosis with each new place that keeps me motivated. Plus, let's be real, I avoid those negative facility politics. 

What was your biggest obstacle when it came to being a traveling OT?

 This time around, learning to commandeer an RV, through the mountain passes, with a tow vehicle. In years past, finding good housing, especially in those tiny communities. 

What are things you look for in a staffing agency when being a traveler?

 To be honest, I like small personable companies, a place where "Everyone knows your name." After all, I do enjoy being notorious.

What is your favorite quote? 

 "If you are going through Hell, Keep Going." -Winston Churchill, or perhaps: "No act of kindness, no matter how small, is ever wasted."

What is the most rewarding part of your job?

 My job keeps me humble & this is a gift I try to consider each day. I often work with people going through the greatest trials of their lives whether that be their mental health or physical limits and impairments. I realize that in a blink of an eye, that could be me in their place, dealing with adversity and fighting to regain what I have lost. That gives me a sense of humility. 
If you are considering becoming an OT, Occupational Therapy is a great career choice for anyone who wants to get into the healthcare field and work directly with patients to make their lives easier. At Marvel, we are thankful for all your hard work and hope you continue to feel celebrated during your month! 
Happy Occupational Therapy Month!