Want to get your Travel Physical Therapist career started as a New Grad?
There are many options available to new grads of physical therapy. Become a travel physical therapist with us and we'll get you started fast! Get in contact with one of our excellent recruiters here at marvel. Call or fill out a quick contact form and we will get back to you soon!
Want to see some of the amazing places you can? Check out our job board and get matched with the perfect area for your physical therapy career.
If you've recently earned your graduate degree in physical therapy and you're wondering what's next, congratulations  — this is an exciting time for you!
Most new grads opt to spend their days working for a clinic or hospital, but that isn't necessarily the only option. If you've been overcome with wanderlust during your studies and you're looking to pay off your debt faster, there's never been a better time to consider becoming a travel physical therapist!
Travel physical therapy is high in demand, making it the perfect career choice for you to hone your skills and gain valuable experience right after graduation. Did we mention that you can also make a killing while you're at it? Great pay is just one of the many benefits that come with this unique career choice.
One thing's for sure — the lifestyle of a travel physical therapist has no shortage of excitement and adventure! To explore the career path of a travel PT and all of the incredible benefits that come with it as a new grad, read on!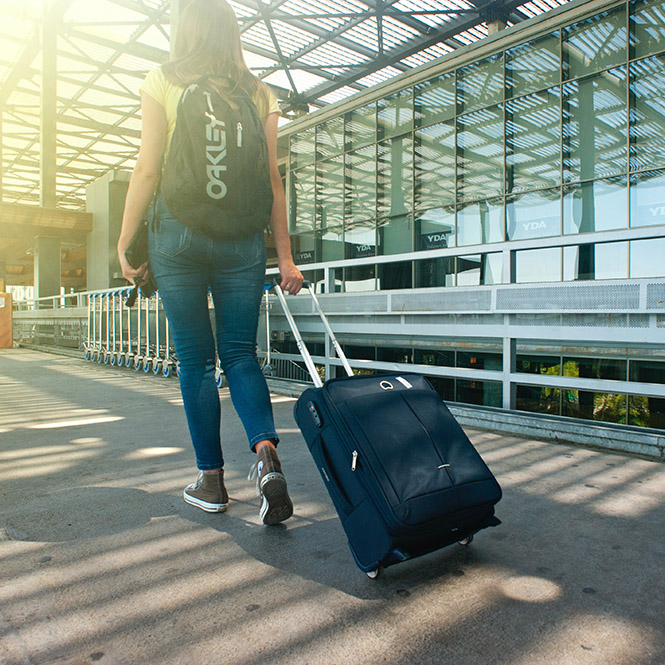 What is a Travel Physical Therapist?
So many healthcare positions these days are allowing new grads to travel. Fortunately, for those who've been bit by the travel bug, physical therapy is no exception. Rather than taking time off to travel after graduation, why not consider travel work?
To become a travel PT, you'll need to meet all of the same requirements as a regular physical therapist. You need a degree from a Doctor of Physical Therapy program and to have passed your state licensure exam. The difference is that you're assigned short-term contracts in different locations. Contracts are temporary and usually 13 weeks long (or about three months).
The best part is that you get to choose which assignments to accept. You can opt to take on contracts in another state, make your way across the country, or even head abroad! With endless flexible travel options, it's no wonder that this lucrative and rewarding career is raved about by travel PTs across the nation.
Perks of Choosing a Travel Physical Therapy Career
Meet New People in New Places
The most obvious perk of becoming a travel physical therapist is getting to travel to where you want. If there's a specific city you've always wanted to explore or if you'd love to live in a different climate, then you're in luck! You can accept an assignment in that city. You may even have the chance to explore different countries as well if you look for international contracts. 
Not only will you get to experience all kinds of new places, but the nomadic lifestyle will allow you to meet so many people you wouldn't otherwise have crossed paths with. If you stick with it, you're sure to network and build personal and professional connections in countless cities.
Travel PT Doesn't Always Mean Working Away From Home
As the name suggests, you might assume travel physical therapists are always traveling far away from home. That isn't necessarily the case (unless you want it to be, that is).
Remember, you decide where you work and when! If you're feeling homesick, you can take on jobs in your own city as well. Why not spend six months traveling and then head home for a 13-week contract to catch up with friends and family while you make money at the same time? Alternatively, you can take time off from work altogether if you choose.
Live Like the Locals
Although you'll likely be working hard Monday to Friday, you can go on new adventures in the evenings or on your days off. Whether you're urban exploring, trying out the local cuisine, or hiking the city's hidden gem trails, you'll have no shortage of fun things to do in your free time. You may not have had the chance to do some of these things as a tourist, but your travel career as a new grad makes all of it possible!
Pay Off Your School Loans Faster
Getting your physical therapy degree is an incredibly rewarding career path. Unfortunately, it's also one that also comes with a lot of debt. While paying off student loans may not be the number one consideration for everyone, it's an important factor for many new grads.
The good news is that physical therapy is in high demand in different states throughout the nation. As a result, travel PT jobs offer much higher pay than most static positions. Yes, earning a six-figure salary is totally possible not long after graduation if you're willing to put in the hard work to get there.
According to ZipRecruiter, the nation's annual average salary for a travel PT is $74,478, while some people report earning up to $199,500. The amount that you can earn will largely depend on the jobs you get, how often you work, and whether you're working locally or internationally.
Travel physical therapists can earn such a great living because they get to travel to where the work is. You can accept consistent high-paying jobs right out of the gate, as soon as you graduate. The best part about higher pay is that you can pay down your school loans faster — all while crossing off different locations from your bucket list!
In addition to the great pay, travel PTs are often reimbursed for travel expenses, housing, licensing, as well as health and dental insurance. Most clinics, hospitals, and private offices don't offer the same reimbursements that you'll get when you're traveling for work. As you can see, the tax-free money and financial incentives can add up quickly to help you save money while working as a travel physical therapist.
Flexible Schedule and Great Work-Life Balance
How would you like to work a job you love while determining your own schedule as a new grad? Good news — it's possible! One of the greatest perks of becoming a travel PT job is the overall flexibility it provides. The hours you work will vary depending on your employer's schedule, but you only have to accept the work that's according to your liking. You get to decide if saving money or work-life balance is more important to you and work according to that goal!
Once a contract is finished, you can decide to take a two-week break or a two-month long hiatus — the choice is yours. That leaves plenty of room to visit family, hop on a plane to explore another country, take some downtime to pursue other hobbies, or do anything else that your heart desires. Talk about a great lifestyle!
Gain Experience and Diversify Your Resume
When you choose a career as a travel PT, you get to experience working in so many different clinics and hospitals for your line of work. Getting hands-on practice in a variety of settings and for different employers will provide you with more valuable on-the-job experience in much less time. You'll naturally hone the skills that you learned in school and gain new ones, which will look great on your resume. It's almost impossible not to sharpen your skills as a clinician.
With a solid work ethic, you'll have solid references from a variety of cities all over the country in a couple of years. Then, if you're looking for a permanent location one day, your experience can help you land a job wherever you want. The soft skills you'll learn will even apply to a variety of other careers if you decide to leave the healthcare industry completely one day.
Reap the Benefits of Minimalistic Living 
Certain perks come with constantly being on the road as a travel physical therapist. Since you can't fit all of your belongings into one suitcase, you'll naturally have to downsize. Besides, who really needs five bathing suits and twenty pairs of shirts to choose from anyway?
There are all kinds of benefits that come with minimalist living, ranging from getting rid of unnecessary items to saving money to boosting mental health. Essentially, you'll be ridding yourself of both physical and mental clutter, therefore improving your peace of mind. When you get rid of all the non-essentials, you'll quickly find that you're left with so much more positive energy.
With that in mind, there's no doubt that being a travel PT makes for happier, less stressful living as a new grad. So by all means, donate those clothes you never wear and make sure your passport is ready to go!
Better Career Engagement
So many Americans go to a job they can't stand every single day. Fortunately, with a revolving door of short-term PT contracts throughout your career, you'll never find yourself stuck in a rut as you might with a permanent position. If you wind up working for an employer you're not particularly fond of, great news — you know you'll be moving on to the next assignment as soon as your contract is over.
Thanks to never being in one place for too long, travel PTs report higher engagement and better job satisfaction than physical therapists working in a fixed location. You'll also get to skip any unnecessary office drama that other physical therapists may be exposed to. It's a win-win situation!
Redefine Yourself
As a new grad, you're ready to start a new chapter in life. Since life after graduation is all about self-discovery, there's never been a greater time to redefine yourself. For some people who have been craving a change after several years of hitting the books, this is a powerful revelation. You're not likely tied down to anything yet, which means you can become anyone or anything you want to be. 
You'll be heading to different states (and maybe even different countries!), so you can leave behind old habits or behavior that no longer serve you. Along with job and location changes, you even have the opportunity to change your appearance or a relationship if you choose. The opportunities are endless when you're on the road as a PT.
Find a New City to Settle In
After having experienced countless different locations and settings, it's no wonder so many new grads who work as travel PTs choose to settle down in a new city one day. It's hard not to fall in love with different cities and states, especially if you're used to living in one place for most of your life.
Who knows, maybe you'll even put down roots in a different country eventually — or fall in love with traveling as a PT indefinitely.
Incredible Self Growth
Lastly, all of the above benefits come together to allow you to experience an abundance of self-growth in post-graduation life. Any time you travel, you broaden your horizons because you get exposed to so many different things. Because of this, it naturally boosts culture and diversity awareness, so it's impossible not to grow as a human being.
As a travel PT, you discover more about what you like and what you dislike. It's all a learning experience that will push you out of your comfort zone and cause you to continuously adapt to a new city, new workplace, and new faces. How could you not experience tremendous self-growth both personally and professionally?

Ready to Start an Exciting Journey as a Travel PT?
Do these perks that come with being a travel physical therapist make you want to pack up and hit the road? Becoming a travel PT is an engaging career with incredible work-life balance, high pay, great flexibility, and an opportunity for endless new experiences post-graduation.
As a new grad, you're eligible to travel and take your skills where they're needed most.  Who knows what unexpected and incredible life experiences are around the corner for you when you choose the lifestyle of a travel PT.
So if you're ready to start exploring your options, then be sure to check out the travel physical therapist jobs on our website to kickstart your new career today!